AirCare – High density air quality monitoring network for Whitefield, Bangalore (Updated: July-23-2023)
Executive Summary
Poor quality is a leading cause of death in India. There is an insufficient number of government air quality monitoring stations and each station costs around Rs. 1 crore to install. Private air quality monitoring is expensive and has limited sharing of information with fellow citizens. Poor air quality is a community problem and we need low cost air quality monitors in large numbers to accurately monitor air quality.
AirCare is a high density air particulate quality monitoring solution costing Rs. 7,500/- per unit.  Mapshalli has designed, developed, and operating the solution.  Mapshalli is a non profit organization known for its community based data and maps solutions and collobarations.
This project is also aimed at selecting, mentoring, and developing next generation technology solution leaders. Significant portion of the project has been implemented by Varun Ramakrishnan when he was a high school junior.
Currently, the project is focused on Whitefield, Bangalore with an original target of 10 air quality monitors. As of July 2023, we have 9 monitors reporting data. The live data is available at https://aircare.mapshalli.org.
Rest of article describes the project and status in detail.
Please contact Shiv Shankar by chat Mapshalli Facebook page if you want to be engaged in this project or if you need more information.
Poor air quality is a leading cause of death in India
Did you know that poor air quality is the second leading cause of reported deaths accounting for 6.4% (1.1 million) of reported deaths in 2016 in India? Outdoor air pollution has long been linked to major health conditions such as heart disease, stroke, cancer, asthma, chronic obstructive pulmonary disease, and recently kidney disease, and diabetes. According to the new research, residential biomass burning is the largest individual contributor to air pollution across India, with many poor residents relying on burning wood, crop residue or cow dung to heat homes or to cook food. If not addressed, air pollution deaths could rise to as many as 1.6 million across the country by 2030.
Of all the pollutants, particulate matter of size less than 2.5 microns (PM2.5) is the leading pollutant. The WHO recommended target for annual mean value is PM2.5 is 10 µg/m3. On Jul-18-2018, in Delhi the PM2.5 reached 824 µg/m3, 82x times the safe limits!
Source: https://www.healtheffects.org/announcements/estimating-burden-disease-air-pollution-india
https://www.thelancet.com/journals/lanplh/article/PIIS2542-5196(18)30148-7/fulltext
https://www.thelancet.com/journals/lanplh/article/PIIS2542-5196(18)30149-9/fulltext
Current state of public air quality measurement in India
Centre of Pollution Control Board (CPCB) initiated a nationwide ambient air quality monitoring program called national air quality monitoring program (NAQMP) which comprises of 342 monitoring stations all over 127 Indian cities/towns located in 26 states and 4 union territories of the country. These stations cost more than Rs 1 crore per installation. As of June 18th, 120 stations have the capability to automatically report data. In Bangalore, there are 5 such stations.
Sources:
https://app.cpcbccr.com/ccr/#/caaqm-dashboard-all/caaqm-landing.
http://breathe.indiaspend.org/technology-research/related-projects/
https://economictimes.indiatimes.com/news/politics-and-nation/karnataka-pollution-board-to-install-new-meters-will-it-clear-air/articleshow/64914183.cms
Current state of private air quality measurement in India
Currently the following types of systems are available in the market that measure PM2.5:
Handheld air quality monitor
Imported air quality monitoring station with cloud based data analysis.
Domestic air quality monitor with a monitoring app.
Option 1 costs Rs 6,000. You can only see the current air quality data. There is no option to store, upload, or share with others. http://www.amazon.in
Option 2 costs Rs 15,000. You can share your data with others. You have to perform your own data analysis. http://www.purpleair.com
Option 3, costs Rs 12,000 for the device and Rs 700 per month data plan for one device. You may be allowed to share data with your neighbors. http://www.airveda.com/
AirCare solution – Low cost community based
If you can not measure it, you can not improve it. — Lord Kelvin
It is important to measure air quality to help in the following:
Identify the precise sources of poor air quality to drive meaningful actions.
Convince and motivate people to change with data on how their daily activities contribute to poor air quality.
Estimate future air quality to advise people on their daily activities.
Poor air quality is a community problem and we need low cost air quality monitors in large numbers to accurately monitor air quality.
To address this problem we have defined the following objectives:
High density air quality monitoring system: Install 10+ air quality sensors at Whitefield, Bangalore covering an area of 20 sq.km; provide real time air quality data for citizens and organizations. The monitoring systems are purchased at cost and hosted by residents or businesses around Whitefield. The cloud based solution is provided by mapshalli.org.
Develop next generation solution leaders: Develop the whole solution by selecting, guiding, and developing a 11th grade high school student. Mentor the student to apply industry best practices in software development and data analysis.
AirCare – Current status of the project (July 2023)
First solution has been deployed in 12 places around Whitefield. Also, existing data from one purpleair station is also being displayed .
Sorry, we are not installing any more AirCare sensors. Please buy a sensor from http://www.purpleair.com and let us know so that we can show the data in AirCare.
AirCare device and application specifications (July 2023)
Please note that this is not a commercial product. The product is given at cost to build it and is managed and supported by citizen volunteers.
Main system
Raspberry Pi 3 model B with builtin WiFi and Bluetooth
16 GB class 10 micro SD card
Space available for data storage: 8GB.
1m or 3m micro USB cable
2A or 3A USB charger
Optional : 2A USB charger Mini UPS without one Samsung 2600mAh Lithium ion rechargeable and replaceable battery that can provide 4-5 hours power backup with full charge.
Estimated nominal power consumption: 2.5W
Air Quality Sensor
Plantower PMS3003 using laser scattering principle. A popular sensor found in air purifiers and low cost air quality monitors.
Measures: PM1.0, PM2.5, PM10.0 in µg/m3
Response time: < 10s
Working: 5V 200mA (1W)
Standby: 5V 200µA (1 mW)
Accuracy: Correlation with reference grade sensor (R2): 0.96
Measurement: Every 5 minutes after 30 seconds idle time
Upload: Every 10 minutes
Per month upload: 4MB (Equivalent to one picture upload from a good digital camera)
Local available storage: 7GB (can store 16 million measurements)
AirCare device software stack
Raspbian OS – Linux 4.9.35-v7+ #1014 SMP Fri Jun 30 14:47:43 BST 2017 armv7l GNU/Linux
Custom Plantower PMS3003 and PMS5003 driver.
Mongo database for local storage.
AirCare client to upload data to Mapshalli servers.
Local apache web server with Python flask for local configuration and management.
Server system and web site
AWS server (t3a.large, 8GB memory, and 30GB disk) with Mongo database, Apache web server, and Python flask framework
Real time air quality map with traffic data using Google Maps V3. Refreshed every 3 minutes.
Enclosure
Original red case or transparent case for Raspberry Pi board.
Roma 6 module enclosure with a face plate and 6 dummy plates.
Three openings exposing: micro USB power slot, air inlet, and air outlet.
Optional opening for Ethernet port on request.
Dimensions (W x D x H): 22cm x 8.5 cm x 6 cm
Weight: 220g
Warranty
Provided "as is" with no warranty.
Actual cost of replacement parts and labor charged.
Community volunteer based support.
Images Gallery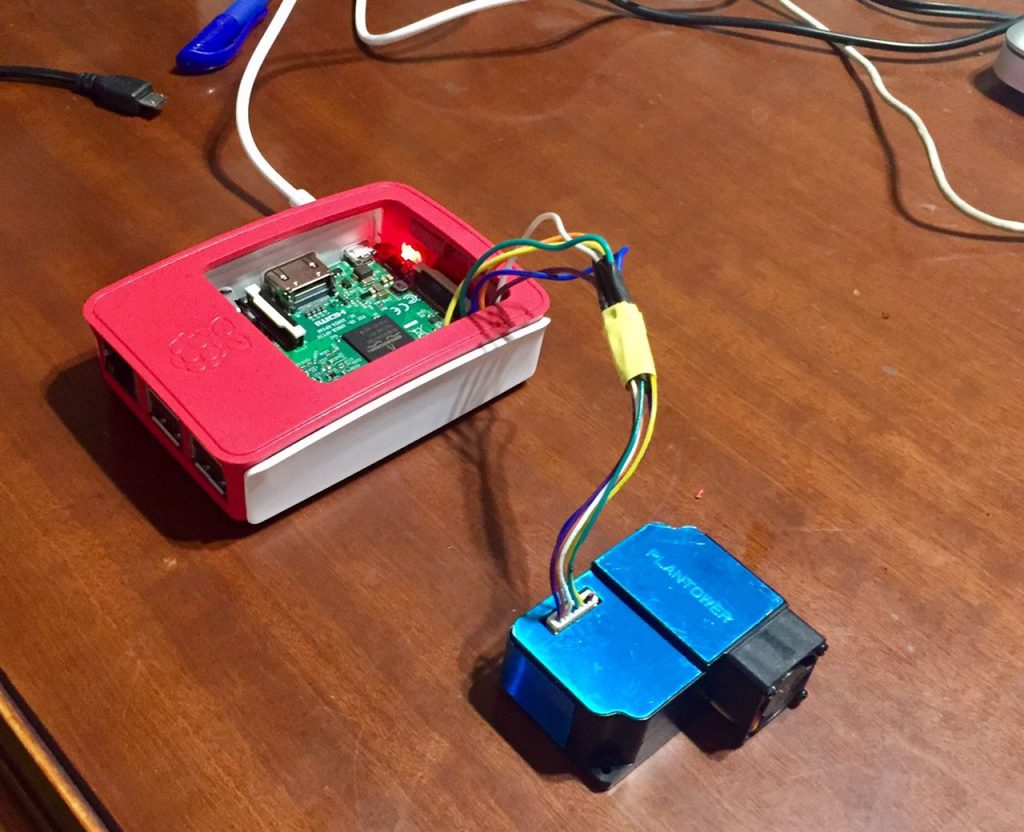 Frequently Asked Questions
1. What was the cost of the device?
The device was provided at a cost of Rs. 7,500/- This covers just the costs of the components used.
2. How do I get one?
Sorry, we are not installing any more AirCare sensors. Please buy a sensor from http://www.purpleair.com and let us know so that we can show the data in AirCare.
3. How accurate is this device?
AirCare uses PMS3003 sensor from Plantower. Manufacturer reported maximum errors are relatively low (±10 μg/m3 in the 0–100 μg/m3 range, and ±10% in the 100–500 μg m-3 range).
The following page shows a test done using another device (Laser Egg) that uses the same sensor. The PMS3003 has high correlation of 0.96 with the China government sensor.
How accurate are common particle counters? Air quality monitor comparison test
We tested the Dylos DC1700, Kaiterra Laser Egg, and AirVisual Pro/Node to find out which air quality monitor is the best and most accurate at measuring PM2.5 air pollution
A more in-depth study is available at:
Field evaluation of low-cost particulate matter sensors in high and low concentration environments
Reports and Articles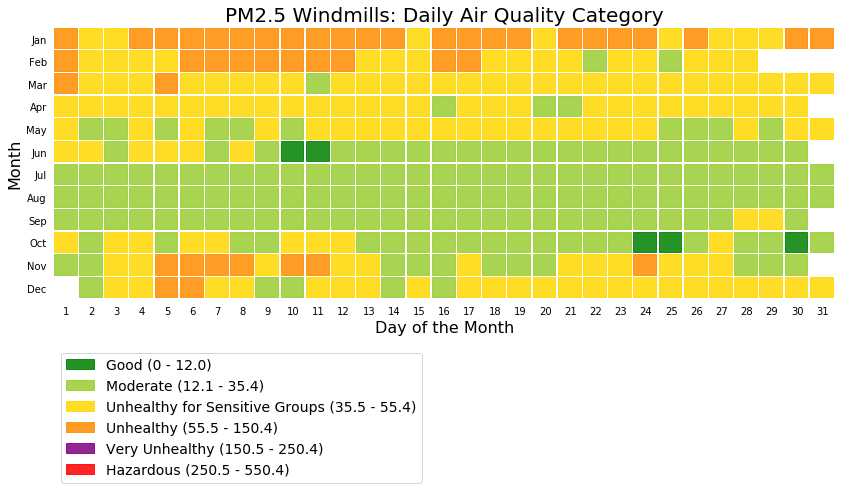 AirCare air quality analysis reports
Jan 17, 2020: Air quality 2019: Things you should know about Whitefield, Bangalore – Mapshalli Aug 12, 2018: Air quality analysis for RxDx sensor for the period Jul-20-2018 to July-30-2018 Air quality data was collected from AirCare sensor during the period July-20-2018 to July-30-2018. Location near RxDx has 3.5x times the pollution of other locations […]