Jan 17, 2020: Air quality 2019: Things you should know about Whitefield, Bangalore – Mapshalli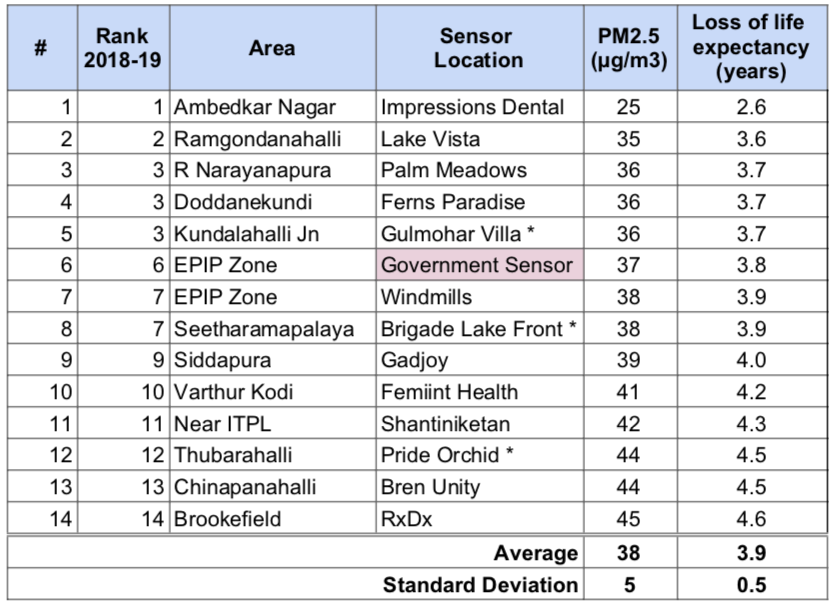 Air quality 2019: Things you should know about Whitefield, Bangalore – Mapshalli
This article describes the assessment of air quality around Whitefield (Bangalore, India) for the period Aug 2018 to Dec 2019 based on the data from 13 citizen managed low cost realtime air quality monitors and one government manual monitor. For the assessment, we will be using the PM2.5 (particulat…
Aug 12, 2018: Air quality analysis for RxDx sensor for the period Jul-20-2018 to July-30-2018
Air quality data was collected from AirCare sensor during the period July-20-2018 to July-30-2018.
Location near RxDx has 3.5x times the pollution of other locations in Whitefield. The average PM2.5 value for the measurement period was 42μg/m3.
During the data collection period, the 24 hours PM2.5 average for the worst day at RxDx was 68μg/m3. At the same time it was 9μg/m3 from another AirCare sensor (benchmark sensor) at Ramagondanahalli. The WHO recommended annual average value for PM2.5 is 25μg/m3. There is no safe level for PM2.5. A long term exposure of PM2.5 at 40μg/m3 is associated with an increase in the long-term risk of cardiopulmonary mortality by 24-52% and lung cancer mortality by 32%.
The PM2.5 values at RxDx shows a huge variation of 19μg/m3 when compared to 4μg/m3 at the benchmark location.
Based on the pattern of pollution readings and visual observations, the pollution is caused by one or more nearby industries.
Jul 11, 2018: Why you should not take morning or evening walks?
Based on the air quality analysis based on the data from March-01-2018 to Aug-09-2018, for the Purple Air sensor at Thubharhalli we found the following:
Air quality is the worst between 06:00AM – 08:00AM and between 07:00PM – 08:00PM.
Air quality is worse during the months of March and April; it becomes better during June and July.
Saturday has the worst air quality and Monday is the best day.
13th of every month has the best air quality and 31st has the worst air quality.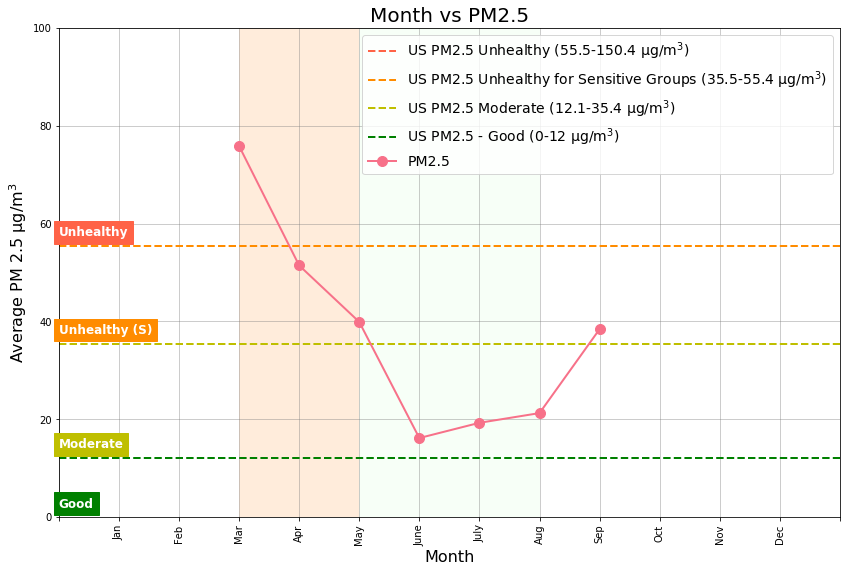 Why you should not take morning or evening walks?
Updated: Oct-01-2018 Executive Summary Do you know someone who lives in the Whitefield area who goes for morning or evening walks? Why are we recommending that you should not take morning or evening walks? What is the best time to walk then? Based on the air quality analysis based on the data from March-01-2018 to […]